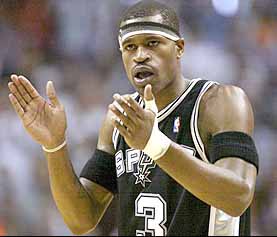 Word has it that Stephen Jackson was set to be married last Saturday, but cancelled the wedding after his fiance� Imani Showalter refused to sign a prenuptial agreement.
"She was ready to walk the aisle and everything and he stopped it," our TPL spy said. "To make it worse, his family (including mom, aunt and cousins) cheered when the wedding director came out and said there was not going to be a wedding. He spent a nice penny on that too not to get married."
Stephon Marbury, Mike Bibby, Malik Rose and Steve Smith were all there to witness the non-nuptials.
For those who prefer their love stories more "Oprah and Stedman" and less "Dennis and Carmen," former L.A. Laker and current Washington Wizard Caron Butler married the "girl of his dreams" at the Bellagio Hotel in Las Vegas. Dwyane Wade, Eddie Jones and Brian Grant were all in the house as ESPN Hollywood filmed the entire ceremony including the minister calling Caron "Cameron."
Nothing says long and successful marriage like a celebrity wedding in Vegas.
Indiana Pacer Jermaine O'Neal also got married last week to his longtime love, Mesha Roper. The ceremony was at the Atlantis Resort in the Bahamas, amid Hurricane Katrina warnings. Despite the weather, O'Neal and his lady stuck around the area for their honeymoon.