Jamaica's Brigitte Foster falls to the ground after crossing the line in an attempt to catch Canada's Perdita Felicien in the 100-meter hurdles. Foster took the silver medal.
Sanya Richards, right, held off Russia and Jamaica on the anchor leg to clinch the women's 4×400-meter title for the United States.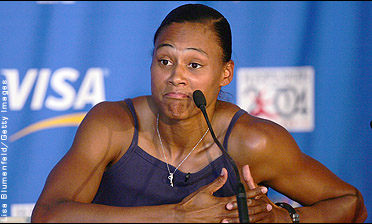 After weeks of defending herself against doping allegations and trying to explain her subpar performances on the track, Marion Jones smiled and laughed as she poked a little fun at herself. An exhausted Jones pulled out of the 200 at the U.S. track and field trials to focus on the long jump and the relays — and perhaps even a spot in the 100.
"It's extremely disappointing. I'm not going to candy coat anything," she said. "My reasoning for pulling out of the 200 today is simply because of fatigue. There's no other reason. After running my round yesterday I was simply tired, exhausted."