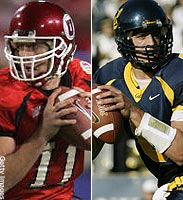 Draft Order as of today.
1 San Francisco
2 Miami
3 Cleveland
4 Chicago
5 Tampa Bay
6 Tennessee
7 Minnesota (from Oakland)
8 Arizona
9 Washington
10 Detroit
11 Dallas
12 San Diego (from N.Y. Giants)
13 Houston
14 Carolina
15 Kansas City
Finally, after months of previews, the lights have dimmed and the curtains have opened on the NFL draft's trade market. While two-plus days remain for deals to rise and fall, at least one mega trade has appeared on the horizon.
A league source said Wednesday that the Miami Dolphins, who have avidly pursued trading down from the No. 2 overall pick, are on the verge of trading that choice to the Minnesota Vikings for the seventh and 18th picks, as well as another mid-round choice. Several signs point to the deal coming to fruition in the next few days.
"Imminent is a little strong, but I think it has momentum," the source said.
It now appears Miami has been targeting Utah quarterback Alex Smith with the No. 2 pick � which was precisely what one NFC coach insisted at the March owners' meetings. But with Smith in negotiations with the San Francisco 49ers, Miami may be forced to go with Plan B with the second selection.
Contrary to popular belief, it now appears that Auburn running back Ronnie Brown is not being targeted by the Dolphins. In reality, communication between Miami and Brown has been a bare minimum over the last month, an odd occurrence for someone expected to be head coach Nick Saban's first-ever draft choice.
That, combined with the possibility that San Francisco will be taking Smith with the No. 1 pick, has opened the door for the Minnesota Vikings, who are attempting to move to the top of the draft to select Michigan wide receiver Braylon Edwards. The Vikings have placed "exploratory" calls to both San Francisco and Miami to find out the price tag for obtaining their picks.
Opinions across the league are splintered about the value of trading up in the draft, and the Vikings would be paying a handsome price by surrendering two first-round picks to grab Edwards. However, he's widely considered the best player in the draft and would go a long way toward filling the void left by Randy Moss.
As most expected, teams have begun to loosen their ties and hunker down just a few days before the draft begins on Saturday. While most of the major trades won't begin to occur until Saturday morning, word is slowly leaking out of what's in the works.
Among the other trades that are expected to pick up steam in the next 48 hours:
Miami cornerback Patrick Surtain for the Kansas City Chiefs' second-round pick.