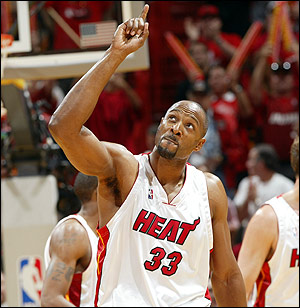 The New Jersey Nets controlled Shaquille O'Neal and Dwyane Wade better than they ever could have imagined and still were hammered by the Miami Heat.
O'Neal and Wade combined for just 31 points, but former Net Alonzo Mourning came off the bench to score 21 and grab nine rebounds in 16 minutes as Miami rolled to a 102-85 triumph over New Jersey and a 2-0 advantage in their Eastern Conference first-round series.
Wade scored 32 points and O'Neal added 17 and 11 rebounds in Miami's easy 116-98 triumph in Game 1 of the best-of-seven series on Sunday. In this one, the Nets all but shut down Miami's two All-Stars, holding them to a total of just 16 points through three quarters.
With Wade and O'Neal struggling – and Game One star Damon Jones relatively held in check – Miami figured to be in trouble, but that was far from the case. The Heat opened the contest with the game's first seven points and scored the final eight of the first quarter to seize a 26-16 lead after 12 minutes.
When the Nets got within 32-30 midway through the second quarter, Mourning had the final four points in a 14-4 burst that all but sealed the game. Mourning, showing a lot of emotion on both ends of the floor and against the team he began the season with, capped that pivotal spurt with a three-point play over New Jersey center Nenad Krstic.
Mourning also had the final eight points in a 19-8 third-quarter run that opened a 72-52 lead with 2:34 left in the period. He made 6-of-8 shots and 9-of-12 free throws in the contest before fouling out in the waning moments.
"My game is not a surprise to me, I feel like I'm a Hall of Fame player," Mourning said. "Nothing I do now surprises me. I didn't forget how to play the game. … The front office has assembled this team for one reason – to win a championship. We want to kill the thought of this being a one- or two-man team. … We know what we're capable of doing. I know what I'm capable of doing."
"Zo was unbelievable tonight," Miami coach Stan Van Gundy said. "He had 21 points and nine rebounds in 16 minutes. That is one of the most productive lines that you will ever see. He was absolutely great."
The 13-year veteran had just six points in 14 minutes in Game One and averaged only 7.6 points in 37 games during the regular season. But with O'Neal enduring one of the worst postseason games of his career, Mourning took over, posting his highest point total this season.
"It's good to be on a good team," said O'Neal, who reportedly had a "secret team meeting" prior to the game to show his teammates his three championship rings. "Guys are definitely carrying me now. I'm sore, but I'm not going to use that as an excuse. The first timeout, Zo grabbed me and said, 'Big fella, you look kind of slow, you look kind of weak. I've got your back, I'm going to step it up.'"
"Alonzo did a great job. There must be something in the air down here or in the water because he does not get tired," Nets forward Brian Scalabrine said. "He can all of a sudden grab offensive rebounds and dunk on people."
O'Neal had 14 points and 10 rebounds in 27 minutes, admitting after the game he felt "slowed." Wade had 17 points and 10 assists for Miami, which has won 21 of its last 22 games at AmericanAirlines Arena.
Vince Carter led New Jersey with 21 points, Richard Jefferson chipped in 14 and Jason Kidd 10, but the trio combined to shoot just 15-of-40. The Nets made just 28-of-78 shots overall.
"We did a good job of containing Wade and some of their perimeter shooters, but they are a balanced team," Jefferson said. "When you take one thing away, they will get you in another spot."
"Obviously, Alonzo was a game-changer," Nets coach Lawrence Franksaid. "Alonzo was really dominant in the paint. We probably gave him too many layups in and around the paint."
The series shifts to New Jersey for Game 3 on Thursday.