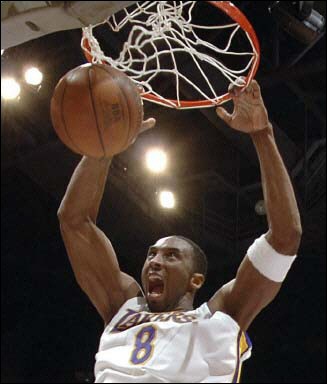 Back in december, Kobe Bryant scored 62 points in three quarters against the Dallas Mavericks, then sat out the fourth because of how lopsided the game was. Many critics and fans alike cried foul, saying he should�ve stayed in the game to see how many he could score. It was his one chance to make hoops history and he blew it. He quit. Or did he?
Sunday night, Bryant lit up the Toronto Raptors for 81 points to lead the L.A. Lakers to a 122-104 win. Eighty-one points!?! That�s more than Rafael Araujo has scored all season (80). On a side note, how crazy is it that Araujo has scored 80 points this season? We would�ve guessed something more like, 17. Anyway, Sunday�s bucketfest makes the case for Kobe as the most dominant one-on-one player in history. And it almost makes up for Kobe giving himself the bizarro nickname, Black Mamba.
The only other single-game perfomance as dominant as the Mamba�s was Wilt Chamberlain�s 100-point game in 1962 in Hershey, Pa. But it wasn�t televised. Plus, Wilt the Stilt was a centre. Also, let�s be honest, the NBA in 1962 wasn�t exactly as competitive as it is today, what with all those white dudes in Chuck Taylors running around. Air Jordan himself has said that it�s tougher for perimeter players to score � MJ should know, his career game-high is 69 points and that included an overtime.
Black Mamba dropped 55 in the second half. (Wilt, by the way, had 59 second-half points in his most productive game). It�s ludicrous. He was shooting so much � going 28 for 46 � we were just waiting for the Raps to throw some quadruple coverage on him.
His point-piling exhibition has definitely put No. 8 into the pantheon of all-time greats, but the question remains on just how good a teammate the Black Mamba is. Between running Shaq out of La-La Land, the whole rape trial debacle and his reputation as a spoiled brat, can Mamba�s freakish individual skill make up for his � so far � shortfall in the leadership department? It�s the difference between winning championships and simply being a scoring circus act.
Though many will view this as a more impressive display than Wilt�s 100, Chamberlain fans can take solace in the fact that his bedroom record is still safe for now. But with a name like Black Mamba, anything can happen.