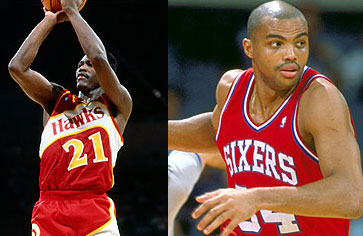 Charles Barkley and Dominique Wilkins grew up in the deep South, played in the Southeastern Conference and spent more than a decade as two of the NBA's greatest forwards.
Now the men with the familiar nicknames and the formidable highlight reels will go into the Basketball Hall of Fame, fittingly, together.
Barkley and Wilkins each got the required 18 votes from the honors committee and will join former Detroit Pistons guard Joe Dumars, Connecticut women's coach Geno Auriemma, Italian coach Sandro Gamba and longtime contributor Dave Gavitt at September's induction in Springfield, Mass.
"Charles and I go back since college," Wilkins said Monday after the announcement was made. "None of us thought this would happen, we just wanted to play basketball. This is the highest honor that can ever be paid, and it's mind-blowing."
Barkley, Auriemma and Gavitt were first-ballot selections. Gavitt's nomination was delayed because he had to wait two years after finishing his term chairman of the Hall of Fame board in 2003, a rule Gavitt helped craft.
Dumars played on the Detroit Pistons championship teams in 1989 and 1990, then helped the Pistons win another NBA title in 2004 as team president of basketball operations. Auriemma has already collected five national championship trophies with the Huskies and is closing in on winning his 600th career game next season.
As coach at Providence, Gavitt had eight straight 20-win seasons. Later, he helped establish the Big East Conference, while also expanding the NCAA tournament to 64 teams and increasing network television coverage of the three-week event.
Among those that failed to get enough votes were former players Ralph Sampson and Adrian Dantley, former coaches Gene Keady and Don Nelson and ESPN analyst Dick Vitale.