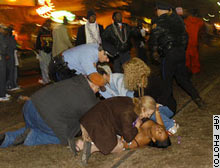 This is going to be our first trip out to Mardi Gras. Last time I was in New Orleans was in September of 2000 for a convention. Now I know that crazy shit happens everywhere, but I know these people didnt see this coming. Outside enjoying the parade, then they get hit by gunshots. Another case of wrong place / wrong time.
Read the full story here: Shooting @ Mardi Gras
I cant let that stop the hustle tho' – We going out there to shoot some ass and I hope we find enough black freaks to make it worth the drive.
Until next update –
Peace.