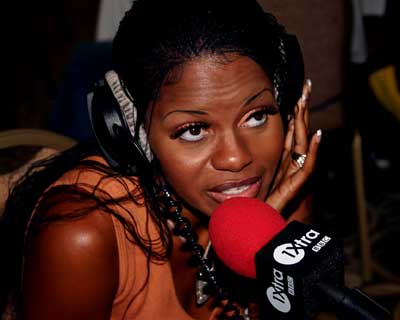 Jacki-O managed to pull herself out of poverty before; now she's set to do it again.
The Liberty City hip-hop star, who burst onto the Miami scene two years ago with her sexually explicit Nookie and image to match, is officially broke, declaring debts totaling $144,225 and assets of just $1,340 in a Chapter 7 bankruptcy filing.
"An artist would like to live a very fabulous lifestyle," the soft-spoken rapper, n�e Angela Kohn, said in an interview. "But it takes money to look like money."
The bankruptcy, which was filed late last year, has cleared Jacki-O's slate of debts, which ranged from Bally's Total Fitness to the IRS to Verizon Wireless.
But more importantly, it has eliminated an obstacle that she says was preventing her from jumpstarting her stalled career — her early recording and distribution contracts.
Under the law, a bankruptcy can void personal services agreements, such as a recording contract, if terms of the deal inhibit the debtor's getting back on solid financial footing.
That was case with JackiO, who had a deal for some five records with Miami's Poe Boy Entertainment and a distribution agreement with TVT Records, said her lawyer Richard C. Wolfe.
' `Baby artist' contracts are inherently one-sided," he said. "This was particularly one-sided. She was given a small advance and since then she hasn't been given one penny in royalties."
Poe Boy Entertainment could not be reached. TVT Records spokesman Joe Wiggins said the label would look forward to working again with Jacki-O.
Bankruptcy has been used by a number of artists to wriggle out of contracts in recent years, including hip-hop trio TLC, vocalist Toni Braxton and Run DMC, but it doesn't always work.
In 1986, a judge rejected actress Tia Carrere's bankruptcy petition, ruling that she was filing in bad faith in order to cancel her contract with ABC Network.
The approach is not a common one but it is accepted, said music business professor Stan Soocher, who edits Entertainment Law & Finance journal.
"From time to time, artists have used bankruptcy to get out of a recording contract or attempt to renegotiate a contract. There have been a series of court rulings through the years," he said.
The Recording Industry Association of America has long backed changes in bankruptcy laws that would tighten the loophole for using liquidation to back out of contracts.
Under last year's bankruptcy law revision, judges can now consider a petition to nullify a recording contract when determining whether a bankruptcy filing is an "abuse" of the law.
Although voiding her contracts was a key strategy behind the bankruptcy, JackiO was legitimately broke, said her bankruptcy attorney Susan D. Lasky. Jacki-O cobbles together a monthly income of about $800 from fees for appearances and shows to live on.
"When she put out an album, things were so good, she didn't see an end to it," Lasky said. "But she's like any other young person without financial experience."
Now 34 years old, Jacki-O grew up in the gritty neighborhood of Liberty City — "where I live it ain't no palm trees," she raps on her 2004 album Poe Little Rich Girl.
She spent a period of her life on the streets, making a living from shoplifting from the tony stores at Bal Harbour. After dropping out of school, she later earned a GED and took college classes at Barry University and Florida Memorial University, studying criminology.
But since childhood, her passion has been singing and songwriting.
In the summer of 2003, she scored a smash single with Nookie, which turned heads with its graphic lyrics, and Jacki-O joined the small female rap scene which pivots on flesh and flounce.
It took more than a year of wrangling before her album was released, Poe Little Rich Girl. The record earned solid reviews but did not boost her career or income as she had banked on.
"The album wasn't being pushed as well as I hoped; the songs weren't on the radio. My video wasn't in the mainstream, like BET. It was pushed underground. I didn't get a second video like I was told," said Jacki-O, who in person seems demure and almost shy, the antithesis of her temptress image.
"I'm a new artist and it takes a lot to push a new artist. I didn't get a fair shot."
TVT Records said her album was just the first stepping stone.
"Her record showed promise," said spokesman Wiggins. "It's about building her career as an artist. That's what TVT is known for. We would be happy to put out another Jacki-O album."
Female rappers face an uphill road in the overwhelmingly male hip-hop world.
Most women artists have to ooze sex in order to get noticed, said DaveyD, hip-hop newspaper columnist and radio programmer who runs hiphopcorner.com.
But that can make it difficult for fans to cut through the posturing to discern raw talent.
Jacki-O fell into that hole, he said. She was also sidelined by the fact that many record labels don't devote a lot of resources to more than one or two female acts at a time because the market for them is so small.
"The big problem is with the label side — sex is sellable," DaveyD said. "The women haven't really been allowed to have their voices nurtured without that sexual agenda of men."
Jacki-O says she's hopeful she'll be able to land a new contract with a label that will put time and money into promoting her.
She's already written material for a new album called Jack the Ripper. The lead track is Monkey — "another name for nookie," she adds with a bashful smile, but offers no apologies.
"Women have to look very sexy, with their lyrics, the way they dress because sex sells," she says. "No one wants to see you sitting there in a turtleneck."
The raunchy nature of the words may be the same, but she promises the rhythm will be different. "It's pop, a bit R&B, a bit hip-hop. I'm looking for a fresh start."