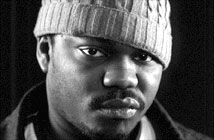 Rapper Beanie Sigel was sentenced to a year in the slammer Friday on a gun-possession charge stemming from a traffic stop.
Things could have been much worse for the former Jay-Z protege–prosecutors were pressing for Sigel to do over three years in a Federal facility, but a Pennsylvania judge felt for the newly charitable Sigel.
"It is clear that the defendant has made a substantial effort to change his life," said U.S. District Judge R. Barclay Surrick.
Sigel praised Surrick for his leniency Friday, saying he wanted to thank the judge for "giving me the second chance, the chance to turn my life around. I know now the situation I was in was a reckless and dangerous situation."
Sigel, who counts Jay-Z, Beyonce, Damon Dash and several other hip-hop heavies amongst his supporters, was on trial for a 2002 incident in which Sigel jumped from his car and ran after a random police pullover. The hip-hopper allegedly tossed a loaded gun during the ensuing chase, and cops seized a veritable drugstore of prescription drugs and marijuana in Sigel's customized Escalade.
The South Philly rapper pleaded guilty to the gun charge in April, hoping to avoid a lengthy sentence (Sigel has had numerous run-ins with the law and boasts a long rap sheet).